Water & Moisture Proof LAMI Doors
LAMI GRP doors are specially designed for internal premises that reguire hygiene, water and moisture resistance and durability. LAMI doors are manufactured using a pressure moulding process. This process produces a door leaf that is completely seamless and has no joints or lippings. LAMI door selection includes LAMI Fire, Acoustic and X-Ray Doors as well as Standard Single Action and Double Action Doors.
LAMI doors are specialist doors that are custom made for each application. The wide range of door sizes, colours, vision panels and accessories are all manufactured according to the clients own specification.
Pressure moulded Sandwich structure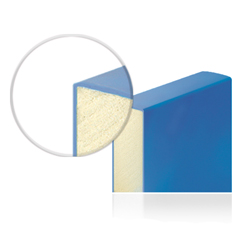 HCFC-free closed cell polyurethane or fire resisting core material.
The 2.5 mm reinforced plastic laminate forms a completely seamless cover, even at the edges.
Non-porous, hard and smooth 0.5 mm moulded gelcoat surface.